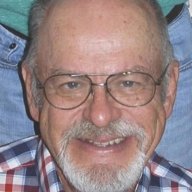 Joined

Aug 30, 2021
Messages

29
Reaction score

45
Location
Greetings from Lubbock, TX!
I've been passionate about cars and truck for more than 53 years, and scores have passed through my hands, including a '66 Bronco with the pickup cab. I had that truck back in 1974 when it, being a six-cyliinder, three-speed version, went on down the road in favor of a full-sized truck.
I now, at last, find myself with a 1992 Bronco, which is not ready for prime time. It's a 302-powered Custom - crank windows, manual seats, no cruise, no tilt, rubber floor mats, but that suits me just fine...fewer things to cause problems. However, the truck has a major issue with the driveline. Someone, for reasons unknown, replaced the original E4OD and BW1356 with a 2WD F150 E4OD and driveshaft, converting the Bronco into a two-wheel drive truck. That's utterly a criminal act, but I've already started on restoration.
I have replacement driveshafts and a good manual-shift bolt ****** 1356 transfer case. The 4WD shifter and mounting bracket are on the way. A buddy who has been building transmissions for 40 years is going to change the existing E4OD to a 4WD version. It's up to me to provide the labor to get all this installed, but the end product will be worth the effort.
The truck has no dents or scratches, no rust, decent vinyl interior and new tires. The only aspect about which I'm not excited is the color - light mocha - but I'm probably going to paint the lower part dark brown or black.
I've already learned valuable information cruising this site, and I look forward to continuing to use it for guidance in the project.