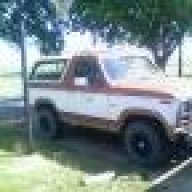 Have Bronco....need money.
Joined

May 22, 2008
Messages

149
Reaction score

0
Ok... so I haven't really had time or money to piddle around with the Bronco since before Christmas (which was also when I had back surgery... main reason for not messing with it)

Today I put a new battery cable on it and put a new bolt in the power steering pump to hold it tight, put some gas to it and it started up... immediately started getting hot so I shut it off... checked the coolant level and there wasn't any in the radiator.

I started filling it up with water for the time being until I can get antifreeze, and I hear water hitting the ground... looks like the motor is just whizzing the water through it underneath the exhaust manifold somewhere, close to the motor mount... would this be a freeze plug or something much much worse?

If it IS a freeze plug, how hard is that to fix?