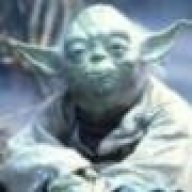 Joined

Dec 26, 2007
Messages

2,092
Reaction score

12
Location
I bought a new door lock actuator and decided to put it in the passenger door.
It is a relatively easy job, once one know how to do it.
I spent more time trying to figure out how and where the actuator connects to the locking mechanism than it took to do the entire job, because I could not see it! I ended up using a mirror, and then my digital camera. Hopefully this little pictorial will save you lots of time, and frustration.
So take your door panel off and look inside.
The actuator is a motor that pushes and pulls a rod. It is mounted to the door near the bottom vertically. It snaps into a plastic retainer/bracket that is riveted to the door. On my bronco that plastic holder/bracket is broken on both doors. I am going to have to drill the center of the rivet out, and use a bolt or something to hold the new plastic holder in place. IF your plastic bracket/holder is not broken, you can save yourself time and just reuse it.
IF you have to replace the bracket, you will have to drill out the rivet that holds it in place. It started to spin on me, so I used a cut off saw, (my new best friend) to slice it in half and knocked it off.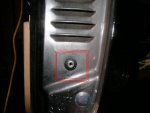 Here is a pic of the new and old parts. See the broken bracket in the upper left.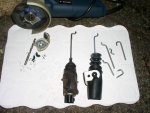 select and install the proper length actuator rod. It is installed using a little pushpin that was supplied. The picture is real blurry.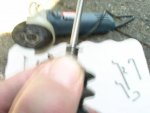 IF you are going to replace yours, install the plastic bracket with a small bolt. I used locktight for security. The notched side of the plastic goes down.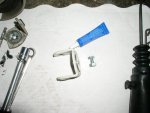 This was the particularly difficult part for me... locate where the actuator rod will be inserted.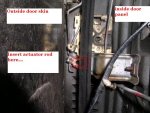 Here is a close up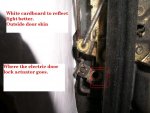 Here it is with the actuator inserted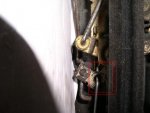 slide the actuator rubber sleeves into the plastic bracket from underneath, and you're done!
I needed to use a pair of spark plug boot pliers to squeeze one side in.
OK... put your door panel back on and you're done.
Next, I pushed the lock button and the darn thing didn't work.
Ahah! I pushed the window button.
Hope this helps.
BroncoJoe19
Last edited by a moderator: