Joined

Aug 3, 2004
Messages

97
Christmas Greetings,
Dog gone Broncdildo won't start. I went to fixing the simple stuff first like cleaning the Ground wire and terminal. Bolt head snapped on the connection to the battery terminal so figured now would be a good time to replace the ground wire.
Here's where it get's strange...I see the wire make it's way toward the engine block. About 12 inches down I can see what looks like where someone spliced the wire together and covered with electrical tape. Another 12 inches and the wire has a metal clamp/tie down like thing which attaches to the frame. Another 12 inches from there and it attaches to a stud from the engine block.
So before I took off the wire I went to the auto parts store and they said it takes a 12 inch cable. This explains the spliced together section. Previous owner must have done the same thing.
But what is the deal with this metal clamp/tie down thing. The insulation from the wire is off where the tie down attached to the wire. Strange cause I don't see anything else being grounded at this point? I suppose there could be some other components grounded to the frame? Anyone got a good explanation for this strange ground cable arrangement?
Here's a picture of the cable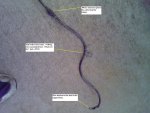 '91 Ford Bronco XLT 5.8L