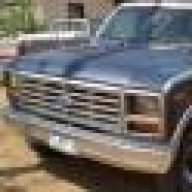 Joined

May 3, 2009
Messages

77
Reaction score

1
Location
here's my intro.
i live near lubbock tx. i bought a 1983 bronco full size 4wd 6cyl automatic a little over a year ago off ebay. its not much to look at... a few dents, some rust, dash completely ruined, rotted carpet, rusted bed (inside), vinyl headliner gone, tailgate is junk, tires dry rotted, leaks oil and antifreeze, crakced and dry rotted rubber around the windows...
the back glass worked when i bought it, but due to rust at the bottom of the tailgate, the frame that holds the glass motor was not secure and rattled. on the way home from buying it, i hit a pothole and the window motor rattled hard and broke the glass (thats the short version)...
but, it's mine and it's fun to drive. i want to get it looking nice, but not put tons of money into. i intend to do all the work myself. i am pretty handy with a wrench, but not a mechanic.
the night we bought it my boys nicknamed it DB
which is supposed to stand for Dust Bucket, but it could also mean:
Dirty Bronco
Don't Bother
Dead Beat
Dead Broke
when i finally get a decent paint job, it will mean:
Deep Blue
frankly, i just don't know where to start. i use it as a daily driver, so i can't start tearing it down to work on it. although, i can have it out of commission for as long as a week if i need to.
here is my list of things i want to do...
lift --
how high... not sure, but needs to be cheap, so nothing custom. probably just enough to put 33's on it.
soft top --
i would like a soft top, but i also want my air-conditioning, so no bikini top.
tailgate --
i will need to repair/replace the tailgate and if i can't get a decent soft top, then get new glass too.
roll bar --
not sure if i want one if i keep the hard top. i still want the back seat accessible.
dash --
rip out that vinyl crap (its nasty anyway) and fabricate (metal? fiberglass? not sure) a new one reminiscent of the early broncos/scouts/jeeps -- very minimalist.
new gauges --
i would love to do this, as long as i get to make a new dash, but now i am talking some serious money! i like the look of circular gauges better than stock. i wonder if i could raid a semi salvage yard and use some old freightliner gauges...?
interior --
again, minimalist. use loop (berber) carpet for headliner, doors, interior panels, etc... but NO carpet under my feet! that drives me crazy! get mud in the truck then after a few weeks it starts to stink, and i am NOT going to take it to the car wash every time it gets dirty -- it's a bronco! its supposed to be dirty! instead of carpet flooring, i really want to apply a few layers of bedliner, like rhino skin or something.
exterior --
again, minimalist. remove the chrome stripping (if you want to buy the chrome, then let me know) and paint it one solid color -- dark blue. i have no desire to keep the chrome bumpers -- something more rugged would be more appealing.
engine --
move up to v8. not that there's anything wrong with my 6cyl (it runs pretty strong, and was rebuilt about 40k miles ago, according to previous owner) -- i just want a better powerplant to tow an RV with.
well... there's my wish list. i guess it's not going to be that cheap. i think the dash and gauges will cost over $2k alone. i can't find a soft top for sale that i like, and a new power plant will easily run me over $1k used, and $3k new (that's just a wild guess). not to mention 33in tires -- what, maybe $300 each?
i will try to post some pics. i hope this works...
You must be registered for see images attach
You must be registered for see images attach
You must be registered for see images attach