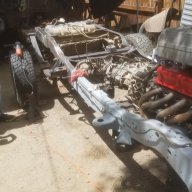 Joined

Feb 29, 2020
Messages

35
Reaction score

7
Location
Hi all, after a few months of fixing other cars I'm finally getting back to finishing up the bronco, figured I'd start where I left off which was wiring up my gauges so I marked all the wires, what they were, and started with the lights, hooked them up at the dimmer wire for the radio.
The problem: the dimmer wire has constant power when the ignition is on, so the lights are constantly on, but if I pull the switch out one position I can dim them just like I always have but switch off lights are on full bright.
Question: is the dimmer wire at the radio supposed to always have voltage, switch on or off? (I tapped here with the 95 dash and never had this problem)
None of the other dash lights come on when the switch is off, just the 3 gauge lights.

95 bronco with complete wiring harness from a 96 headlight to tailgate harness, if that helps any.