I got stuck and had to tow it home.
The transmission has been shifting a little funny after sitting for many years and I wasn't too worried about it and put it low on my priority list of things to fix. It would occasionally start off in third gear after coming to a halt and it was recommended to me that I put it in reverse and accelerate and sure enough that fixed it until the next cold start.
Well yesterday I was bout 15 miles from home and the tranny quit altogether sitting in gear at a red light. When I tried to drive away it just slipped. I was able to crawl to the curb and get a tow home.
So now it sits waiting for an appointment at the transmission shop. This is one that I am going to hand off to the shop being that it is heavy to remove, I am working alone, I have limited knowledge of auto transmissions and I don't have a lift for the job. I do have a parking lift but it was custom made short to fit in a small garage space and it only lifts short wheelbases.
Oh well time to put the Bronco on the back burner and do some yard work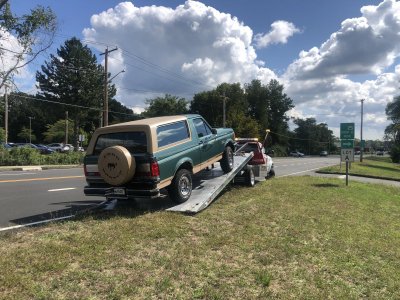 Last edited: