Joined

Apr 15, 2020
Messages

1
Location
Hi, Thanks for allowing me to join your Forum. i live in Australia, but have a postal address in Oregon , USA
I am seeking the sway bar bracket that sits on top of the RHS swing arm of the Dana 44 TTB front diff of a 1985 Ford Bronco. It is held in place by the lower spring mounting stud (# 33225 in Bronco Graveyard catalog).
Mine has gone missing during a move and I need one to complete my restoration.
If you are able to help with one or can suggest where I might be able to source one it would be much appreciated?
Pictured is the LHS bracket .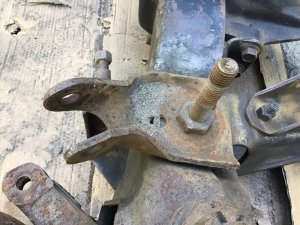 Erniech.