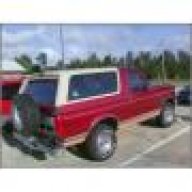 Joined

Dec 24, 2008
Messages

5
Reaction score

0
Location
I'm a very novice mechanic and I have limited funds...so here's the story. I have a 94 Bronco with the 5.8. I have just recently changed the plugs, wires, water pump, thermostat, fuel pump and filter and, cap and rotor. The problem I'm having just started after the water pump went bad (maybe just a coincidence).

When she gets up to operating temp, she starts to sputter and stall. I pulled over and it seemed fine. Tried to go on she backfired under the hood. I stopped and then she quit on me. Had it towed to the shop and it started fine. They checked it out and said that the water pump was faulty and was shooting water into the distributor. They changed the cap and rotor. Next day, same problem. I avoided the tow charge and just let it cool off and drove it back to the shop. They think its the fuel pump. They said the fuel pressure was 8 pounds less than it should be. The shop that fixed the fuel pump says two things, fuel pump works or it doesn't, and that it sounds like a thermal problem (electrical or sensors) since it runs fine until it gets hot.

I drove in town this morning for about 30 minutes and it seemed fine. But this has been happening at highway speeds, mostly on interstate.

I don't believe it's the TPS. I am at a loss. If it's the fuel pump, it's under warranty. I just don't have the skill or knowledge to troubleshoot this on my own. I know that simply changing parts is not troubleshooting.

I welcome any advice or suggestions.