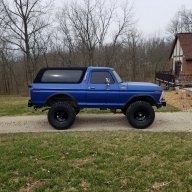 Joined

Mar 1, 2021
Messages

65
Reaction score

70
Location
Okay, so I threw some chromoly axle shafts in over the weekend and I found one of my warn lockouts wouldn't release. So I put a nice set of Mile Markers on.
This Bronco has sat for many years, it's in great shape, but things like brakes usually act up when a truck sits for that long.
Now, I have upgraded my booster and MC to F350 stuff (not much of an upgrade really), but I feel like there has to be some performance calipers out there that might clamp tighter and hold up better. Anyone have any experience with higher end binders?
Additionally, the bleeders are seized on these calipers, so I have to bleed from the brake line fittings, but it's just a matter of time before I can no longer do that.
I'm seeing some more expensive calipers out there from Raybestos and Centric, but are they just simply more expensive because of the name or some window dressing?
I'm going to check to see if Baer, Widwood and/or EBC make any for the 78/79's.