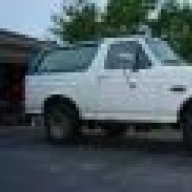 Joined

May 7, 2007
Messages

169
Reaction score

0
Location
Today's the first day I've driven the beast since I did about 3 weeks worth of body work. As luck would have it, a check engine light came on after about 30 miles of driving.

I stopped at autozone and they scanned. Two codes to report:

P0174 (Fuel system for bank 2 was too lean)

and

P0141 (Malfunction in heater circuit for oxygen sensor 2 in bank 1)

This has me confused. I'm supposed to be leaving for a wheeling trip right after work on Thurs. (tomorrow) and it looks like I need to change two oxygen sensors now! Can anyone shed some light on what needs to be changed? The truck is running great, but I don't want this problem to escalate into a cat converter failure nor do I want to deal with poor mileage for 400 miles this weekend!

Is it possible that this is a byproduct of not running for a few weeks? I also took it through a car wash to get all the dust off it today from the sanding and it had a under body blast feature. If it was a fluke, how many times must the truck be started to clear the code if it no longer exists?