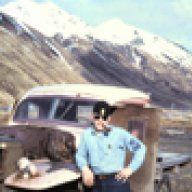 Joined

May 22, 2004
Messages

7,315
Reaction score

35
Location
The following proceedure is from the 1983 Ford Service manual, with a few minor wording changes, but should work for any year. Also included are a couple of illustrations from the same proceedure to help you visualize it.
1. Remove the electrical connector from the ignition switch.
2.Rotate the key back and forth to either side of LOCK, until a 5/64 in. drill bit can be inserted through the locking pin hole as far as possible (minimum 3/8 inch). The lock pin hole is located on the right of the switch next to the steering column tube.
3. Loosen the two ignition switch mounting nuts.
4. Turn the key to LOCK (feel for detent) and remove the key.
5. move the switch up and down along the column to locate the mid-positionof rod lash and tighten the mounting nuts.
6. Remove the drill bit from the ignition switch lock pin hole.
7. Plug in the electrical connector and operate the lock cylinder to insure the switch is positioned properly.
8. Confirm that all accessories are deactivated with key on the OFF position, and that all accessories are operable in RUN position.
Good luck,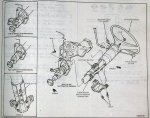 View attachment 3015
Last edited by a moderator: