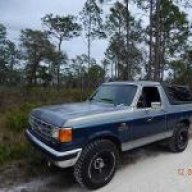 Joined

Oct 30, 2014
Messages

28
Reaction score

3
Location
Yo, my fellow Bronco - dudes...

So here's whats up....January 17th or the 24th (depending on response) I am heading up to Ocala in CF to host a M&G and ride. I have purchased the Ocala NF map and have locations, trails, and ratings for everything there. Looking to get as many Broncos out to have some fun and crack up together.  Please let me know if you want to attend and which date sets better with you and I will select the one that brings the most out of hibernation. 

I was thinking we pack our own lunches in coolers, etc. and just ride all day looking for trails and seeing the sites...maybe a stay over for the night if ya want...I may do some camping, depends....

Mainly, we would meet at a morning place for breakfast, Denny's or something, and then head out with a good idea before hand of which trails we wanna go conquer first. We can stop throughout the day for munching, BS-ing, and motor checks, then pick a new path and go.... 

SO.....who's in ????