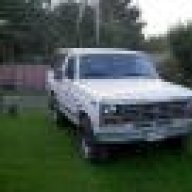 Joined

Apr 4, 2006
Messages

114
Reaction score

2
Location
Hello all I've gotten some great help from here. From that help I doubt I'd be able to say this. The bronco is back in the states where it belongs! I picked up the old bronc about 3 years ago in England where it had been for 14 years and through 7 owners, of which were either American or English. But I had a hard time getting it to where it is now.
First picked it up i could only do 20 mph. Back fired and took the muffler with it. Timing was all backwards, firing on only 2 plugs at the right time, vacuum leaks all over, oil, water, & brake leaks, couldn't gas it to hard with out the risk of back firing, couldn't turn off with out the same effect, could barley go in to gear with out it stalling.....Water pump was my first part to fix but in the middle of winter of England it didn't work. I had it towed to a local garage to rear that due to many broken bolts. They replaced the water pump, tapped new bolts, new ignition module, and tried to fix a oil leak. They suggested that the timing chain be replaced. OH but wait they didn't find the spark plug problem. Got the timing sequence corrected, installed a newer carb and new alternator and power reg.
A few weeks later my boss helped with the replacement of the timing chain and a the same time notice that the timing chain cover was creaked on the water side and filled in with like JB Weld. Wasn't like that before. Put the new chain on and broke a bolt in the block. I got the new cover took 6 hours to do, trying to recover the broken bolt. Got that working, timing was a little sloppy but doable. Not but 25-30 minutes later I had 3 puddles under the engine: water, brake, and oil. The water was the pump not sealed all the way, brakes well couldn't be helped, but the oil was leaking a bit more than usual. A steady stream of oil was coming form the rear main. It had been leaking the whole time but a drop a week. But almost half of the engines blood was on the ground. Put more in, pressure went up but quickly dropped.
I was deploying to Iraq for 4 months in about a month and a half. I found a much better garage that did work on American cars and trucks. They took it and began the work. The crankshaft bearings were gone, in which took the rear main out and the oil pump. Replaced: Crankshaft, oil pump, all seals, distributor, power steering pump, rear sway bar, starter 2-3 times, chain to gear drive, radiator, thermostat and housing. Repaired: valves, heads, exhaust system, electric fan mounting, carb, vacuum leaks. Removed: all emission systems, ignition module.The starter was giving them so much trouble due to the fly wheel had 2 bad spots and the starter was moving all over the place and cranking the housing. There was no fly cover to hold the starter in place. The starter, fly wheel and cover, tranny needed to be worked on here in the states. It was shipped to Florida this past summer when I returned from England to my new base in South Carolina.It was shipped as a none runner.
I had those issues taken care of then another problem came out. Drive shaft was going out. That same day from picking it up from the repair shop the starter died. It wasn't until 4 months later it was able to be worked on. I drove down to Fl from SC to get the work finished. It worked new starter and shaft. All Loaded up to make the journey north to SC and.......dead. The carb goes out. Went to Advance Auto grab a new one and the problem was gone. After a 10 hour drive it wasn't but 2 weeks that work began again.
Over heating, loss of electricity, stalling. T-stat went bad it was locked shut, electric choke was never connected, and just this past weekend the alternator fried. Fixed all that and now it's time for a new engine. The rear main is still leaking, I'm loosing about a quart every 2 weeks but it's also burning. Leaking water from just about everywhere. And the cam has about 45k left before that goes. The windsor's been rebuilt once before I got it, it needs it again there is a pit in the one of the cylinder walls.
I'm going to try and see if i can't try to salvage that old engine, but I fear that when the crank went it made the rear main opening a little bigger. Sorry that this turned in to a long-short story but I had been away from the computer for a while and I thought I should do this and finally do an intro.
New engine
You must be registered for see images attach
After I bought it
You must be registered for see images attach
State of the engine
You must be registered for see images attach
Before shipping
You must be registered for see images attach
Engine after repairs