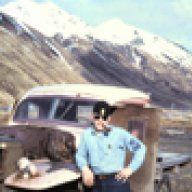 Joined

May 22, 2004
Messages

7,315
Reaction score

27
Location
This seems to be the forum for this. I don't recall seeing any other posts on this subject, so if there is, forgive me for repeating it. Any way I think it deserves another look even if you have already covered it.
Ford is currently in the process of driving their loyal support groups over the edge. They currently are going after business with Mustang in their name. It won't be long before they go after everyone who uses Ford or any of it's products in their name. Take a look at this article in Ford Muscle magazine; see the article, "Help Us Convince Ford They Are Wrong"
http://www.fordmuscle.com/blog/
. Read the article and put in your well thought out, intelligent comments, try to keep the explitives down, it works better when being reviewed by the intended audience.
This link is also included in one of the comments and I will repeat it here,
http://www.petitiononline.com/65must65/petition.html
When I do my final round of restoration, I'm personally considering removing any reference to Ford on my Bronco. After all, with some customization, it will look better than anything Ford ever built and why should I give them free advertising. So before any of you guys/gals get irate over this comment, read the articles in FMM and see what Ford is doing. They already abandoned us years ago and the only reason we can hang in there is because of a FEW loyal Ford aftermarket supporters.
I love my Bronco
"Rosie"
, but just like human beings, just because hers or his relatives **** doesn't mean you can't love her/him.
Good luck,