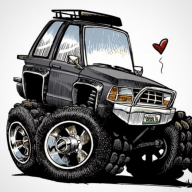 Joined

Aug 1, 2021
Messages

19
Reaction score

20
Location
Looks like I'm a little late to the party, but here's my two cents:
Short version:
I support the idea of doing this trip. It's a great way to shakedown/stress test the truck. I make trips like this a lot, and I'm always glad that I do. It helps work out all the little kinks and get a feel for what its capable of.

Long version: in my experience
I'm in Oxford, MS and I make regular trips to Fort Lauderdale, FL in my 85 Bronco, w/ a more/less factory 351W. Highly recommend a functional temp sensor. That was a good idea and you wont regret it. In my experience, especially this summer, my speed on the highway is dictated by my engine temp. The faster I'd go, the hotter it'd get. As soon as the clouds came in or it rained, temp wasn't an issue at all. Also, I run 70-80 w/out overdrive so... go figure.
(190-200º: not concerned at all, 200-209º: maybe slow down/pay attention, 210º +: to hot, make it cool off)

On a different note, I've made the trip several times and something random always breaks, but never stranded. My truck is also in way worse shape than yours so again... go figure. I always bring some tools and electrical stuff, just as a precaution. It sounds like your motor/drivetrain is in good condition so you shouldn't have to worry about throwing a rod, dropping a valve, stripping a gear, etc.

I hope this helps, I really just wanted to give you an idea of what you could see, and share common issues that I run into w/ trips like that.

Go on an adventure, get busy livin.
the temp sensor i put in got the gauge working. here in the Delta (clarksdale MS) its been hot and as you know its very flat. the gauge dosnt have numbers on it. just a zone for normal temp and a zone for hot. have driven it for hours on end around the delta and the temp just kinda sits in one spot on the gauge. about 70 percent the way up the gauge. so im not entirely sure how accurate the gauge is but seems ok. the only metric i have to know if it working or not is when the car is off the needle drops to the bottom and when it get turned on after a few minutes of driving that needle has risen to the middle top/middle of the gauge.