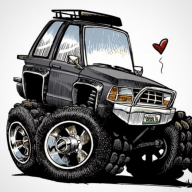 Joined

Aug 1, 2021
Messages

19
Reaction score

20
Location
Im moving to Los Angeles this month and i am considering driving my 88 B2 manual trans out there. from Memphis the total drive is 1800 miles which is 3 days of driving 10 hours roughly. Hers is the breakdown of the truck....

100k miles on the original 2.9 liter v6 with a manual trans.
Since buying it in jan of 2021 it has never given me any engine trouble and the trans is in great shape. has been inspected multiple times.
New tires. New u joints and ball joints. new brakes.
NO TEMP SENSOR. the temp gauge does not work it needs a new sensor so i never know how hot its running.
all the cooling and radiator just got checked and is good.
NO AC. does not even have the compressor it in so no AC anytime soon.

So my question to you all is..(all opinions wanted clearly) Is it is wise to drive it to LA through the scorching desert from Memphis in this condition? i have driven it for hours at a time in 97 degree Mississippi delta heat and its never had an issue. Then again its never done 1800 miles directly through the gates of **** that is Phoenix. Obviously i have to consider my personal well being in the matter but i figure with lots of drinking water in the cab i can make it no prob.

is this an adventure or is this suicide for the truck?