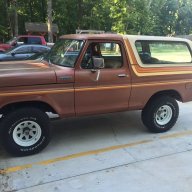 Joined

Oct 8, 2017
Messages

3
Reaction score

1
I have ran into 2 problems putting a 460 out of a 76 LTD into my 79 Bronco. 1st problem is the power steering pump line wont fit without hitting the steering gear box. Is there a smaller pump or a pump that has the high pressure line exiting at another location on the pump? Or any other ways to make this pump work.

2nd problem is the passenger side exhaust manifold...with the exhaust manifold that is on the engine, I will have to notch the frame to put exhaust pipe on. I had rather not do that. I know that there is some style of headers that would work, but i have never had a set of headers that doesnt leak! Any ideas?

Thank you in advance!!