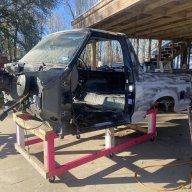 Joined

Jan 14, 2021
Messages

40
Reaction score

40
Location
I haven't been posting on here because I've actually been reading everyone else's shared posts on their restorations and so now I'll share mine to make some of you feel better.
So I bought one of those "No Rust, No Dents, Almost perfect paint job" Broncos in January of this year and since then I've almost got a divorce because of the time and money I have spent on it already. Of course I bought it sight unseen and had it shipped to me and well, you know how that went. The Bronco looked great in the picture, but kind of like an ugly girl-( Good from Far but Far from Good). Anyway I am at that point where i have lost my mind on fixing or replacing everything that had a dent, scratch or tear, which is probably why I have already spent so much money and time on it. I have had 9 Broncos in the past and none of them have been as challenging as this one. Every seat bolt, seat belt bolt and rear seat latch bolts were so corroded that I had to drill them out
(actually I'm stilling drilling them)
. The carpet was glued down for whatever reason with some form of Alien glue that made it a nightmare just to remove the carpet. The engine runs great but leaks oil like the Exxon Valdez. I have yet to tackle removing the bolts to replace the body bushings which I see it going the same way as the other bolts. I live in Texas and the Bronco came from Washington state which probably accounts for all the corrosion on the frame and bolts. Check out my pictures of where i am now. Also if anyone has some good sites on where to buy interior parts I would be interested in knowing.
Last edited: