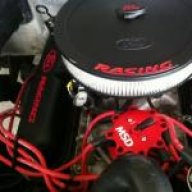 Joined

Oct 14, 2010
Messages

231
Reaction score

7
1987 Fullsize Bronco

351W 5.8L 4 BBl Holley

Gibson Headers

True Duals

Ok here goes (takes a deep breath in)

I have a 87 Full size, 5.8L 351W ** 4bbl Holley (stock). Rebuilt engine, tranny, and rear end. I guess the first problem that i have is,

there is not a whole lot of info and/or discussion on my particular truck. With that said, my rear antilock brake light has been on

for a while. The front brakes locked up once and was smoking. When i finally got the truck home, i bled the brakes. All of the brakes calipers bled

fine, except the rear passenger. It had to be pumped a few times, and finally fluid shot out. So im sure dirt or grime was lodged in there. Needless

to say, the front brakes havent locked up again. When braking, the truck doesnt stop like it is suppose to.

So, i finally did a check on the ABS system and it returned a code#7 Shorted isolation valve or defective ABS module. I saw on

another discussion board that there is no way to repair this problem. The ABS hydraulic unit has to be replaced. When i checked the procedure

for replacing the ABS module in my Haynes manual, it gave the procedure but then it also said that after it has been replaced, it will not work

effectively until it is taken into a shop that can correctly set it up. I think that is only for the all wheel ABS, but im pretty sure my vehicle

only has rear wheel ABS. If i replace the ABS unit, do i have to take it into a repair shop as well so they can set it, or will it be good to go upon

installation, since its on rear wheel ABS?? Next,

Whenever i make a turn, left or right, while moving..the rpms drop substantially (to about 300-500 rpms). And when i come to a hard stop, the same thing happens. I was told that it is probably my fuel pump, but just about everything is pretty much new on my engine. Is this an inherent problem with mechanical fuel pumps if this

is the problem? If its not the problem, what else could it be? carburetor is new or newish (remanufactured). fuel filter is new. fuel pump..new. wires and plugs..new

fuel lines..new.